mostbet-sport.com
Vanessa Gomez - "Angelina"
Vanessa Gomez scored the female lead in the 100% CGI psychological thriller "Id". Currently filming, this hardcore heart-pounding violent adventure will leave you breathless. Look for it in the spring of 2011. When she's not filming, Vanessa enjoys the film festival circuit supporting her suspenseful 1950's film noir "Blood Money". Don't forget to check her out as the vivacious vixen "Angelina" in the sizzling teen dramedy "Come Together". Recently, Vanessa started her own production company (Wicked Wolf Films) and produced "Vamps", a short film that she also starred in. Vamps is about Vampires who hypnotize and farm humans for their blood. The production will be wrapped by February of this year. More details and trivia about Vanessa are available at IMDB.com and VanessaGomez.com
Cooney Horvath - "Seth"
Cooney Horvath, a Pittsburgh native, made his way out to Los Angeles via Denver. After earning degrees in Architecture, Psychology, and Cinema/Television from the University of Southern California, Cooney decided to take a break from his studies and spend some time playing the acting game. Today, Cooney can be found on the right coast Harvard University where he's earning his PhD in Cognitive Neuroscience and conducting research at the Berenson-Allen Center for Non-Invasive Brain Stimulation at Beth Israel Deaconess under Drs. Alvaro Pascual-Leone and Jennifer Thomson.
Marisa Sullivan - "Susan"
Marisa Sullivan, a Chicago native, moved out to LA after studying in France and attending University of Iowa, where she studied French and Theatre. She knew she wanted to be an actress for as long as she can remember and had won many lead roles in plays growing up. At the age of 19, she auditioned for MTV's "Wanna Be a VJ, too?" contest with thousands of other hopefuls. She was selected as 1 of 12 finalists out of 8,000 across the country and appeared on TRL, garnering some nationwide publicity. Thinking those were pretty good odds to move further, she continued her studies in LA, at the Joanne Baron/D.W. Brown Studio with Elaine Williams, studying Meisner. Marisa has worked on a few independent films, commercials, music videos thus far and has made some television appearances on networks such as NBC, Fox News Channel, E!, MTV and Spike TV. Marisa has been active around the LA theatre scene, portraying Ginger from 'Casino' in the play 'Wiseguys' and performing a lead role in 'Dark Side of the Moon', a visual performance piece to Pink Floyd's album of the same name that got rave reviews in the LA Times. She has also recently appeared in Ray Romano's new sitcom, 'Men of a Certain Age'. She is currently freelancing for In Touch Weekly magazine and for Image Locations, recently managing such shoots such as Vogue with Rachel McAdams and Dior with Sharon Stone. She hopes to go further into the production world and has a show in the works that she will be starring in! Ultimately she wants to be acting and producing. Keep your eyes peeled for this larger than life personality!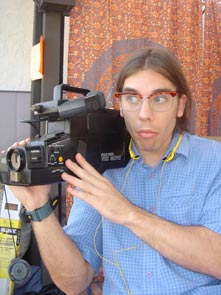 Spencer Ryan - "Jeremy"
Spencer Ryan has always been eager to entertain in one way or another. Growing up in Little Rock, AR, he found music as well as sports great stages in which to perform. Throughout college, Spencer took up competitive bodybuilding as another form of entertaining and being artistic and actually won many competitions throughout the South. After college, He then began acting, and a few years later he made the move to Los Angeles. Spencer has enjoyed a number of years acting in tv and film, print modeling, appearing in commercials, and has most recently gone back to the music as he is now a DJ/producer under the name SpenceRx. You can download his latest tracks and mixes at www.soundcloud.com/spenceRx and you can contact him on facebook at www.facebook.com/spenceRx79
Mark Strano - "Robert"
Mark has lived many interesting lives. After graduating from Marymount Manhattan College with a BFA in Acting, Mark spent his years in NYC casting for theatre, designing retail store displays and film composing for independent films. Upon moving to LA, Mark managed screenwriters for Acuna Entertainment before returning to his first love, acting. He has been in several LA theatre productions, including the 30th anniversary revival of Gemini, and several indie features including lead roles in the creature feature Lizard Boy and the 90's dramedy Come Together. As the unofficial King of Web Series, Mark has starred in and created a dozen web sitcoms. Follow his thoughts, travels and creations at markstrano.blogspot.com.
Jen Kim - "Lulu"
A native of los Angeles, Jen Kim has been studying acting since college. She attended UCLA where she received a BA in Sociology with French minor and was also a member of Lapu, the Coyote that Cares Theater Company, the oldest collegiate Asian American theater group in the country. She has also spent a year in Japan where she worked in the JET Program as an English teacher. Since her return in 2005, she has been pursuing acting and has worked on numerous short films, commercials and theater.
David Stamps - "Eric"
David Stamps, who portrays Eric WIlliams, is extremely excited to watch Come Together engulf audiences from different walks of life. David, originally from St. Louis, MO, has graced these tough streets of Los Angeles as an actor, dancer, writer and fitness guru for several years. With a BA under his belt he directs the non-profit children's organization; Pure Movement Dance Program and is currently finishing his first fitness book; "Can Fitness Really Be Fun?" David also has a host of credits including a guest star on The Chealsea Handler Show, commercials including Radio Shack and NCAA and is also in "Zombie Prom", a Wes Craven mentored film that is continuing to sweep awards all over Los Angeles, California.